The Super Commercials of the Super Bowl
The Super Bowl was just a couple of weeks ago, and it brings new hilarious and sometimes sad commercials. We interviewed a couple of our Spectrum students to see their favorite commercial from that Sunday. Alex Rolhaff said, "PopCorners the evolvement of Bryan Cranston". This commercial was about the lead actors in the hit show Breaking Bad, Aaron Paul and Bryan Cranston also known as Walter White and Jesse Pinkman. They talk about the new flavor of PopCorners and how they are "air fried and not popped". Alex thought the commercial was well-edited and very hilarious.
Jayse Norling and Sage Behnken had different takes on the Super Bowl commercials. The commercial they remembered was "The Famer's Dog Food". This commercial was about a black lab and a little girl growing up together living life side by side. As the girl grew up so did the dog, the dog was there threw everything, her laughs, college, her marriage, and her first child. The commercial's goal was to promote "better dog food" because "Nothing matters more than more years together". Sage said this commercial was really emotional and she actually started crying near the end of it.
Skylar Maclennan thought the "Love Your Enemies" commercial was the most impactful one. Love Your Enemies displays an array of different pictures of many different people arguing, yelling, and fighting, while the song Human by Rag'n'Bone Man plays in the background. The commercial is all in black in white creating an intense scene as screaming and yelling start to overpower the music. When the music starts to fade only sirens can be heard when the words "Jesus loved the people we hate" comes on the screen. This commercial wanted to make an impactful meaning behind the acts of others. Saying we should love our enemies not hate them.
Margaret Ruzek talked about the new General Motors and Netflix commercial "Why not an EV?", talking about switching to electric vehicles.  This commercial talks bout Netflix including more EVs in their films "It's the least they can do". The commercial has Will Ferrell talking about different shows like The Walking Dead, Squid Games, and Bridgerton, and how Nexflix is promoting more electric transportation. Margaret said the commercial was really funny and gave her a good laugh.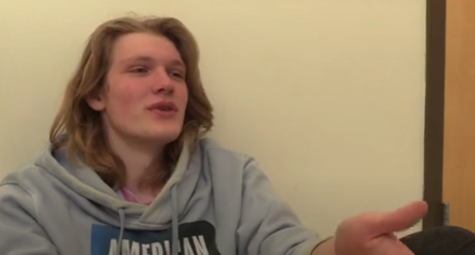 Tyler Cerar discusses the Pepsi Zero Sugar commercial featuring Ben Stiller and Steve Martin. This commercial was a back-and-forth between the two actors, they bicker about who the better actor is and who is "Over acting and under acting". Tyler really liked this commercial because you couldn't tell whether they were joking or not. The Super Bowl is a way to connect people together but also just make funny and emotional commercials for all to enjoy.