An equestrian spotlight: Sophie Jones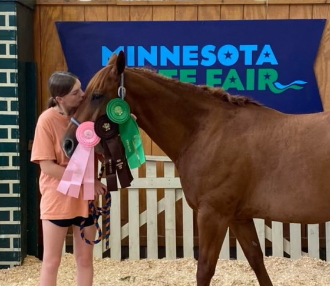 Many students here at Spectrum partake in sports in and out of the school. One student in particular partakes in a sport that is very unique. Sophie Jones is a junior at Spectrum High school and her activity is equestrian sports at H.O.P.E Stables in Big Lake. Sophie and her horse, Phoenix, do show jumping and hunters together.
Sophie started at a very young age all thanks to her aunt, and over the past couple of years she has gotten more serious about the activity. "I started to have a trainer around five or six years old," says Sophie, "then I did shows."
Equestrianism is like a full-time job, you have to care for the horse, prepare for shows, and be mentally and physically fit. "It takes up all my life." Sophie says, "And I've basically dedicated my life to it." 
All the handwork, though, definitely  pays off.