What is RTI at Spectrum High School?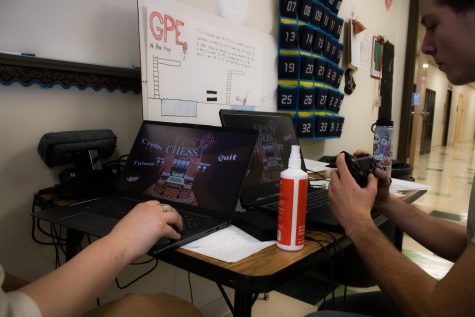 In our school there are many different things offered to us day to day, one of those things is RTI, but what actually is RTI and how can it benefit students? RTI stands for Response to Intervention it is a time when students and teachers can request to meet to get more personal help with some of the topics covered during class that the student may need a little more clarification on. Students may have a teacher select them for RTI because they have missing or late work.
After teachers have made their selection students have an opportunity to choose what teacher they want to go to or if they want to go to the CCC (College and Career Center) in Infinite Campus. For the students with release perks, they can use this time to stay in the CCC or go out to their cars to take a quick break from school. "I request CCC because I don't have a study hall on Wednesdays and Fridays so I can just go home… It's pretty convenient." Said, Olivia.
The idea of RTI is to help level the playing field for education for students who need it a little bit. While students. " RTI [stands for] response to intervention, it is a strategy our school uses, many schools use this, to help students be successful," said Mrs. Johnson. "Students can best utilize RTI by selecting their teachers, meaning when the window closes for teachers to select students on Mondays, so on Tuesdays students can go in and select a specific teacher," said Mr. Leland. RTI has been around since the 70s and 80s the goal of RTI was to figure out a way to bridge the gap between general education and special education.
RTI can give students who are on top of their work and don't need clarification on the subjects in class a chance to take a break from school for thirty minutes. "Basically it helps me by having somewhere to get excess homework done so I'm not as stressed when I get home. Or just have fun with friends, because with Ruzek's big ideas, you just debate with friends which is a lot of fun," said Keilana. 
RTI only last for just thirty minutes but that thirty minutes can be helpful for students to successfully understand their classes and topic, or to just have a break from their school lives.